"Excess of Light," "A Bright Pile of Reasons," and "Key" by A. Molotkov appeared in Issue 11 and can be read here.
Tell us a little about "Excess of Light."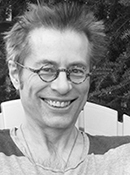 I was thinking about the inextricable way in which sadness, tragedy, darkness fit in our experience as humans. It may sound paradoxical, even perverse, but without the most terrible experiences we remember and retell, human race would be limited in its scope just as much as without a memory of its brightest achievements. The dramatic breadth of our opinions and morals is what makes life fascinating. Even the awareness of mortality is instrumental in our ability to enjoy our lives more fully, to manifest our meanings. "Excess of Light" dives into these contradictions and emerges with some statements the reader might ruminate upon.
What was the most difficult part of this poem?
Striking the right balance between an observation that is too obvious, and a statement so poetically complicated as to make meaning-making impossible. Poetry should create intuitive territories in which notions are suggested or alluded to and the reader is given enough guidance to feel comfortable, but not too much to prevent the reader's own interpretive experience.
Recommend a book for us which was published within the last decade.
Voices from Chernobyl by Svetlana Alexievich is in many ways the most stunning of my recent literary encounters. Alexievich life-long approach is referenced as oral history (her books are collages compiled from hundreds of interviews). In this case, the eyewitness accounts describe a new reality that had not existed in the world before radiation. In some way it's science fiction come true, but at the core, it's about survival and its dark beauty and stark ironies.
If you could have a drink with any living author, who would it be? Why?
Karl Ove Knausgaard. In his famous long memoir he comes through as a lovely and genuine guy whose tastes are in many ways similar to mine. Of course, he would very quickly drink me under the table.
What are you working on now? What's next?
I'm always working on new poetry. My first collection, The Catalog of Broken Things, came out last October: http://www.airliepress.org/the-catalog-of-broken-things. I'm doing a few readings while trying to find homes for my other three collections. In the meantime, I began draft 2 of my novel, A Slight Curve, about the intersecting fates of a San Francisco chemist and an immigrant from East Germany.
Thanks to Sequestrum for these thoughtful questions – and thank you to everyone who's taken the time to read. 
Our thanks to A. Molotkov for taking the time to answer a few questions and share his work. Read "Excess of Light," "A Bright Pile of Reasons," and "Key" here: www.sequestrum.org/poetry-by-a-molotkov.
___________________________________
Born in Russia, A. Molotkov moved to the US in 1990 and switched to writing in English in 1993. His poetry collection, The Catalog of Broken Things, is just out from Airlie Press. Published by Kenyon, Iowa, Cincinnati, Massachusetts, Atlanta, Tampa, Raleigh, New Orleans, and Cider Press Reviews, Pif, Volt, Ruminate, 2 River and many more, Molotkov is winner of various fiction and poetry contests and a 2015 Oregon Literary Fellowship. His translation of a Chekhov story was included by Knopf in their Everyman Series. He co-edits The Inflectionist Review. Please visit him at AMolotkov.com.