"Sean Will Eat (or Drink) Anything (Except Straight-Up Poison) For $35," a short story by Andreas Trolf, appeared in Issue 21 and can be read here.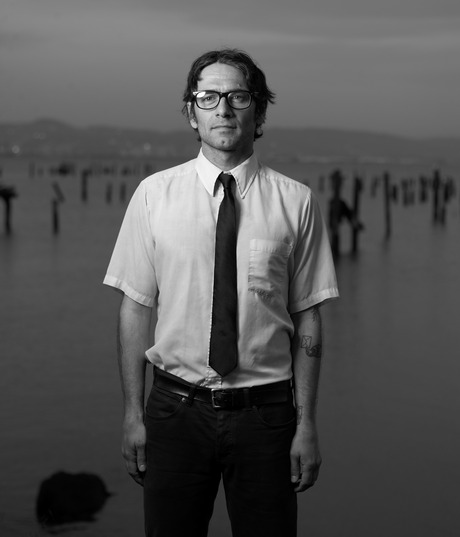 We've love to hear more about Sean and his eating habits.
I got the idea for this story after finding myself in a very deep and somewhat troubling YouTube rabbit-hole of "dare eating" videos. I'm always surprised, and often pleased, when the world reveals itself to be stranger than I'd thought. These videos were, on their surface, disturbing, and with this piece I was primarily trying to understand what would motivate someone to make them. I doubt that personal sadness is behind all of them, or even most of them, but in thinking about "dare eating" the sadness of the person making the videos seemed like a strong motivation. Clearly, it's not everyone's motivation, but it felt to me like something tangible enough to build a story around.

What was the most difficult part of writing this story?
This piece was a challenge because I'm describing something that maybe comes across best visually, and I actually first imagined this story as a screenplay. But once I found a way to get past that, it was a true pleasure trying to get inside the head of someone like this and to see them as more than their YouTube façade. Taking something that at first blush feels ripe for parody, or for poking fun at, and instead doing your best to observe it from a place of sensitivity and understanding is, for me, one of a writer's primary responsibilities.

Recommend a book for us which was published within the last decade.
I sincerely and wholeheartedly loved the Neapolitan Novels by Elena Ferrante, and devoured all four books inside of a few weeks last year. I think her observations on friendship, family, and responsibility sit on par with almost any other work of fiction.

If you could have a drink with any living author, who would it be? Why?
George Saunders. To me what is most palpable in his work is a sense of decency and shared humanness, and even apart from writing I sometimes ask myself if an action of mine, in my real life, would be worthy of some of his best characters. He writes, I think, with a strongly held moral code in mind—that of simply being kind to one another—which is something I aspire to in art and in life; that even given the many reasons we might have to despair, there are even more, and better, reasons not to.

What are you working on now? What's next?
I'm currently writing the Adult Swim show Tigtone, but spend my nights and weekends working on my next novel, which is a story of two families linked by drug addiction and criminality. Against my own better judgment, it's a comedy.
Our thanks to Andreas taking the time to answer a few questions and share his work. Read Trolf's story, "Sean Will Eat (or Drink) Anything (Except Straight-Up Poison) For $35," here: https://www.sequestrum.org/fiction-sean-will-eat-or-drink-anything-except-straight-up-poison-for-35.
___________________________________
Andreas Trolf's fiction has been published most recently in Juked, Bluestem, and McSweeney's Internet Tendency, as well as collected in the anthology Life and Limb (Soft Skull Press). He is the writer and co-creator of the Emmy-nominated Sanjay and Craig, which airs on Nickelodeon. He is currently writing the series Tigtone for Adult Swim.