"As Deer Search For Grass," a short story by Cassandra Martinez, appeared in Issue 24 and can be read here.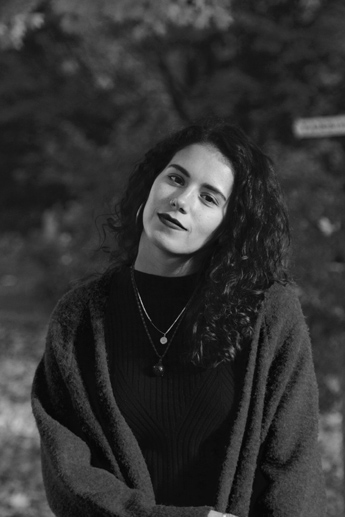 We'd love to hear more about "As Deer Search For Grass."
Several years ago, I heard a story on a true crime podcast about a rural community that collectively buried the body of an unknown young boy, nicknamed the Blue Boy, who had been found in a field. I was struck by the kindness and horror of it all. "As Deer Search for Grass" is completely fictional, but it was born from this fascination. I imagined the silence of the snow-covered field, the body, and how such a tragedy would affect those who found the boy and who never received any answers. From there, the first line of my story broke this silence. 
What was the most difficult part of writing this story?
This story was originally about a mother and her teenage son, the latter of whom doesn't understand the pain his mother feels in having lost a baby years ago. However, as I began to write, I realized this was not the story I had in my heart. The story is about Marta's faith and recovery, reflected and refracted by the discovery of the blue boy. When I realized this, I knew I needed to change the plot, particularly the climax. This was the challenge. The new climax would be significantly more quiet and personal, but I still needed my reader to feel its urgency for Marta.
Recommend a book for us which was published within the last decade.
I'll cheat a bit, but before I finished reading the question entirely, I was going to say One Hundred Years of Solitude. For the last decade, I'll offer another piece of gorgeous magical realism: Exit West by Mohsin Hamid. A love story, a study in empathy, and an account of what it means to immigrate—Exit West is urgent, heartbreaking, and compassionate. I read this book in several days with my heart in my throat.
(I'll also throw in The Shadow of the Wind by Carlos Ruiz Zafón and The Witch Elm by Tana French for those who, like me, adore atmospheric mysteries, twists, and a hint of violence. These are also the only two books that have made me gasp out loud.)
If you could have a drink with any living author, who would it be? Why?
I would love the chance to sit down with Carmen Maria Machado. Her writing is feminist, fantastical, referential, and horrific in the best way possible. I remember where I was when I both began and finished reading Her Body and Other Parties. Her book haunted me and I was left with the unshakable feeling that stories such as these were the reason I try to write.  
What are you working on now? What's next?
I'm primarily rewriting stories penned during my last year of college and drafting new ones as well. I'm also submitting sporadically, but I suppose what I'm really working on is myself as a writer—finding what inspires me, discovering what themes and obsessions I return to, what habits I can develop, and what feeds me. I am eternally a work-in-progress.
Our thanks to Cassandra for taking the time to answer a few questions and share her work. Read Cassandra's story, "As Deer Search For Grass," here:  https://www.sequestrum.org/fiction-as-deer-search-for-grass.
___________________________________
Cassandra Martinez is a Latina writer from Richmond, Virginia with a BFA in Writing, Literature and Publishing from the honors program at Emerson College. She currently resides in New England and works for an independent publisher. Her work has appeared in Stork, Flawless Brown, Concrete, Underground, and the Florida Review.