Charisse Coleman's nonfiction, "Riding Shotgun," was the winner of our 2015 Editor's Reprint Award and can be read here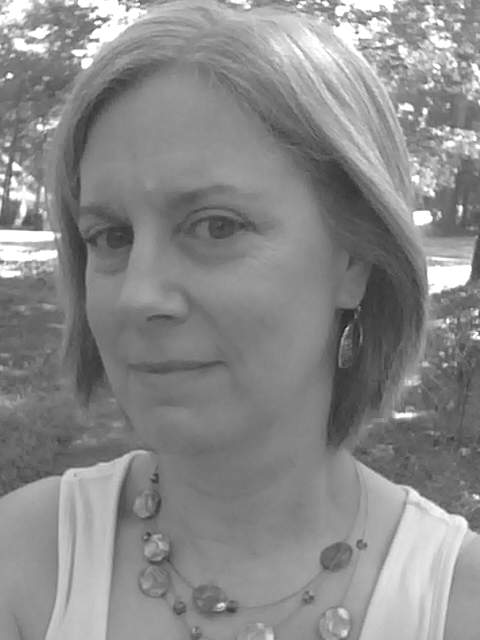 What's the most difficult part of the writing process for you?
Without question, it's getting a new piece underway. So many false starts! Such a relief when a noodling around begins to find, if not an outright direction, at least a chain of associations that sustains itself long enough to be developed. One of the things I love about the essay form is that I never really know entirely what I'm thinking until I've pushed my thinking hard enough to turn it into sentences. By contrast, I am happier than a pig in fresh mud once I have a draft, no matter how ugly or awful, to revise. (And revise, and revise, and revise, repeat 15-20X)
Tell us a little more about "Riding Shotgun."
I'd been murking around in the doldrums awhile, sick of the sound of my own voice in my head, tired of my own thoughts, wishing for the umpteenth time that I was any good at all at making things up so I could take a break and write fiction, instead. When every stray idea I have is immediately followed by the voice that says, "Well, that's stupid – where ya think yer gonna get with that?" my best defense is to read instead of write. Randomly, voluminously, as many good essayists as I can. Phillip Lopate's landmark anthology The Art of the Personal Essay conveniently stashes dozens of those into one volume, which I had brought with me to peruse at a Panera Bread one afternoon. Re-reading the Sei Shonagon excerpt in APE made me laugh out loud, it carbonated my brain, it made the whiny voice say,"I wanna do wunna those!" That led to both "The Café Book" and another piece that splintered off from it and became its own essay "Nostalgia," published in Ascent magazine (thank you Scott Olsen).
Recommend a book for us published within the last decade.
You guys are kidding, right? One book? At least when you do the "what albums would you have with you if you were stranded forever on a desert island?" exercise, you get 5 or 10! So I'll just go with what popped up first. Robert Olmstead is a writer far too overlooked and undersung. His novel Coal Black Horse induced an altered state in me – a kind of enchantment I'd rarely felt since childhood while reading a book. In essays, I'd pick Anne Fadiman's At Large. So many things to admire in her work: precision, knowledge, command over the seamless unfolding of each piece, sharp-but-compassionate truth telling, and good grief that vocabulary! A national treasure, is Ms. Fadiman.
If you could have a drink with any living author, who would it be?
There are many authors I'm in awe of, but were I to actually have a drink with an Awesome Author, it would likely be a very short evening. Me: "Oh, god, I love your work! I really do! I just love your work! You are so awesome!" AA: "Waiter? Check, please." This is kind of a cheat, but she did win an Oscar for best adapted screenplay: I would thrill to an evening spent with Emma Thompson. And since I'm cheating, here's another (in case Emma is busy): Anthony Lane, the film critic at The New Yorker. He makes me laugh out loud and follow my husband around the house reading the reviews to him. We share a similar sensibility in our evaluation of a lot of movies (and having been an actor and a film buff, I don't lack for opinions about movies!). So, yes, cocktails at the Manhattan spot of AL's choice.
What are you working on now? What's next?
I'm working on new essays, looking to amass enough pieces that make enough sense together to make a first collection. I'm also working on finding a publisher for my memoir, A Bad Goodbye: reckoning the aftermath of murder, about my (other) brother's murder in 1995 and how different I found the experience of losing someone to violence to be from other grievous losses. That would be what Philip Gerard would call the "apparent" subject and Vivian Gornick has called "the situation"; the "deeper" subject (PG) or "the story" (VG) is my quest to understand why my brother and I had such a terrible time loving each other well.
Our thanks to Charisse for taking the time to answer a few questions and share her work. Read her award-winning nonfiction, "Riding Shotgun," here: www.sequestrum.org/riding-shotgun.
____________________________________
Charisse Coleman's essays have appeared or are forthcoming in Ascent, Water~Stone Review, Witness, Sou'wester, andHunger Mountain, among others. She is a two-time recipient of NC State Arts Council Fellowships for nonfiction. Formerly a professional actor, Charisse has also worked successfully as a gypsy house painter, office temp, babysitter, dog walker and legal proofreader, and very badly as a legal secretary and cocktail waitress (unfortunately, not at the same time, which would have improved things immeasurably). She now has a small psychotherapy practice in Durham, NC, where she lives with her husband and three very vocal shelter cats.