Dallas Woodburn's short story, "Woman, Running Late, In a Dress," appeared in our Summer '15 Issue and is available to read here.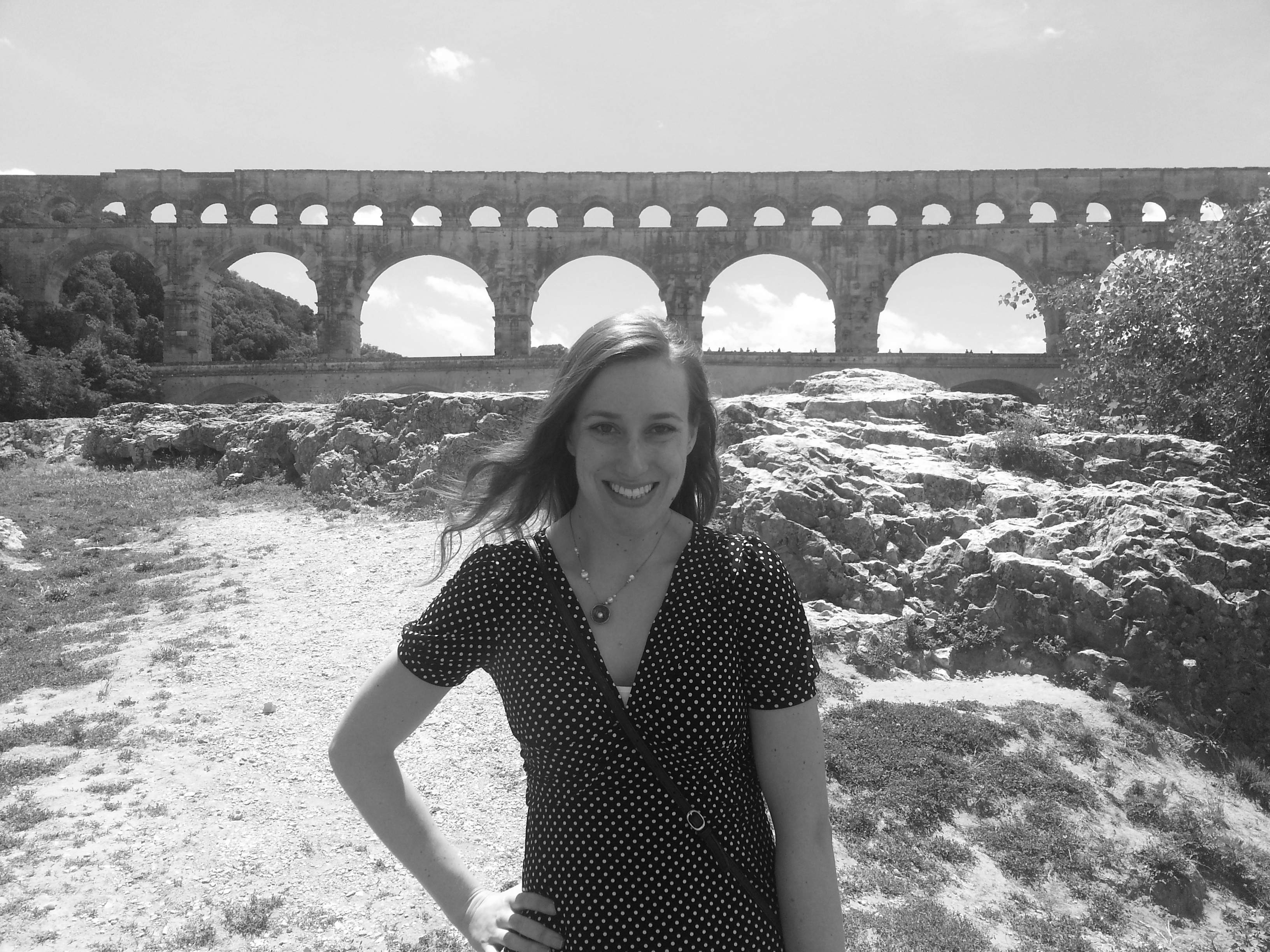 Tell us a little about this "Woman, Running Late, In a Dress."
This story might be the only story I've ever written that was birthed by a dream. I keep a little notebook on my bedside table because often I get ideas when I am drifting off to sleep at night. I always force myself to write them down because I never remember them in the morning. Often, looking over these jotted-down notes the next day makes me shake my head—the ideas that seemed so brilliant as I was in that liminal space between waking life and dreamland seem silly or senseless in the light of day. But one night, I scribbled down an entire paragraph—it came to me whole cloth, very vivid. When I woke up the next morning, I really liked it, but I had no idea what it meant or where it could lead. So, it became a riddle for the reader, as it was for me. As I wrote the story, I had no idea what the answer to the riddle would be. I was writing to find out. It was a journey of discovery for me, as it was for Carol, and as I hope it is for the reader.
What's the most difficult part of the writing process for you?
For me, the scariest part of writing is definitely the first draft. I don't really outline before I write; I like to discover as I go along, to feel my way into and through the story. At its best this can be absolutely exhilarating—one of my favorite feelings in the world—but this writing process also entails the inevitable wrong turns, fumbling around, and uncertainty. For me, it is all part of the journey. When I start a first draft, I always feel like I am climbing into a boat and pushing off into open water, paddling towards a shoreline I can just barely make out in the distance.
I feel revision is more enjoyable. I like to play around with the building blocks of a story once I have them down on the page. And often I write a lot of new material for a second—and third and fourth—draft. My first drafts tend to be very lean; in revision, I do a lot of fleshing out.
Now that I am out of an MFA program, I might say the most difficult part of writing process is guarding my writing time! It is amazing how it can disappear so quickly, whittled away by other activities and commitments, so I am learning to guard it very carefully. I make a writing date with myself and put it on my calendar, the same as any other meetings or obligations. I am the happiest when I am writing regularly, so it is the most important appointment I have each day!
Recommend a book that was published within the last decade.
My favorite writer is my dad, Woody Woodburn, an award-winning journalist and author. He worked as a sports columnist for many years, and one of my favorite memories from childhood is opening up the newspaper to the sports page and reading his column. He always managed to dig into the human stories hidden underneath the headlines. Two years ago, he published a memoir about his two-decade friendship with legendary basketball coach John Wooden, titled Wooden & Me. The book is an intimate portrait of a young man stepping into his adult life, graced by the mentorship and wisdom of an older man looking back on his life. Their friendship becomes a touchstone through life's ups and downs: job changes and big decisions, heartaches and joys, births and deaths. It is an incredibly moving and well-written book. As he writes in the final chapter, "I am beyond blessed to have known John Wooden, who as a man far surpassed his legend." One of the joys of Wooden & Me is that the reader gets to know the man, too—he sparkles with life on every page.
If you could have a drink with any living author, who would it be? Why?
What a fun question! In thinking about this, I realized how lucky I am that I have been able to meet—and sometimes even take classes from—so many of my favorite writers: Aimee Bender, George Saunders, Lorrie Moore, Hilma Wolitzer, Porter Shreve, Bich Nguyen, Patrica Henley, Sharon Solwitz, Jess Walter.
A book I read and loved recently was The UnAmericans by Molly Antopol. I was especially impressed by the way she told so many different stories of characters of various ages, perspectives, and cultural backgrounds. Her book inspired me to take more risks in my own work, to challenge myself, and to not be afraid of writing about events or issues that are unlike my own personal experiences. Just as we read to connect with others, I think writing is also an act of empathy and learning. I would love to have a drink with Molly and talk about all things writing! Molly, if you're reading this: I'd love to buy you a drink sometime and pick your brain!
What are you working on now? What's next?
I am currently shopping my first novel, Fractured, to literary agents. This is the novel I worked on during my year as a John Steinbeck Fellow of Creative Writing at San Jose State University. I was fortunate to have many insightful, wonderful first readers who gave me terrific feedback and comments, and the manuscript has gone through numerous iterations. I finally feel like it is ready to be sent out into the world. It is an exciting time! I am beginning to brainstorm and freewrite ideas for my next novel. I also blog regularly for Arch Street Press and my own blog, and I always seem to have at least two or three short stories and/or essays going on the side. One of my favorite things about being a writer is that every day is different—I love to hop around from project to project depending on my mood each day.
Our thanks to Dallas for taking the time to answer a few questions and share her work. Read "Woman, Running Late, In a Dress" here: www.sequestrum.org/woman-running-late-in-a-dress
____________________________________
Dallas Woodburn is a 2013-14 Steinbeck Fellow in Creative Writing at San Jose State University. A three-time Pushcart Prize nominee, she recently won second place in the American Fiction Prize and her work is forthcoming in American Fiction Volume 13: The Best Unpublished Short Stories by American Writers (New Rivers Press). Her short story collection was a finalist for the 2012 Flannery O'Connor Award for Short Fiction; individual stories have appeared in Superstition Review, The Nashville Review, Louisiana Literature, Ayris, and Monkeybicycle, among others. She has been honored with the international Glass Woman Prize, the Brian Mexicott Playwriting Award, and a merit scholarship to attend the Key West Literary Seminar. A former fiction editor of Sycamore Review, she also served as editor of the anthology Dancing With The Pen: a collection of today's best youth writing. Woodburn graduated with her MFA in Fiction from Purdue University and received her B.A. in English/Creative Writing from the University of Southern California, where she studied under Aimee Bender. She is also the founder of Write On! For Literacy, an organization that empowers young people through reading and writing endeavors: www.writeonbooks.org.
"Woman, Running Late, In a Dress" was a runner-up in the 2015 Editor's Reprint Award.