Daniel Miller's short story, "Eleven Rules for Visiting a Ghost Town" appeared in Issue 11 and can be read here.
Tell us a little about "Eleven Rules for Visiting a Ghost Town."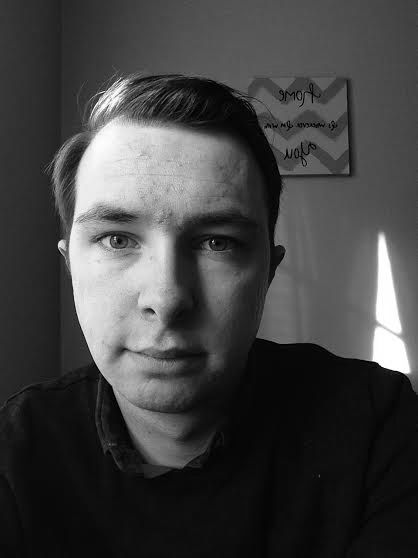 The idea of writing a list story first came to me after teaching an Aleksander Hemon story to my English 1510 class.  The story—"The Life and Work of Alphonse Kauders"—is a wonderfully strange, wonderfully meta, biography of a fictionally notorious historical character.  My love for ghost stories prompted the rest, and the legalese came naturally in the voice.
What was the most difficult part of writing this story?
The most difficult part about writing this piece was writing a story in list form that didn't feel like a Buzzfeed article or too gimmicky.  I spent a lot of time questioning whether the form was too cheap before sending it out.
Recommend a book for us which was published within the last decade.
This is hard for me because there's a million that I'd like to recommend!  I'm going to have to go with my dear friend Nick Francis Potter's newly released collection, New Animals, which is a haunting and hilarious series of short stories and comics.
If you could have a drink with any living author, who would it be? Why?
Again, difficult!  I've talked with him a bit and have interviewed him, but I'd love to spend time with Brian Evenson, who is easily in my list of favorite contemporary writers.
What are you working on now? What's next?
I'm currently finishing a collection of short fiction, and once that's in order I will continue working on a novel I have in progress.
Our thanks to Daniel for taking the time to answer a few questions and share his work. Read "Eleven Rules for Visiting a Ghost Town" here: www.sequestrum.org/fiction-eleven-rules-for-visiting-a-ghost-town
___________________________________
Daniel Miller's work has appeared in Conjunctions, Puerto del Sol, and Zone 3, among other publications, and has been nominated for the Pushcart Prize.