"Cleaner Houses," a short story by Eric Rasmussen appeared in Issue 21 and can be read here.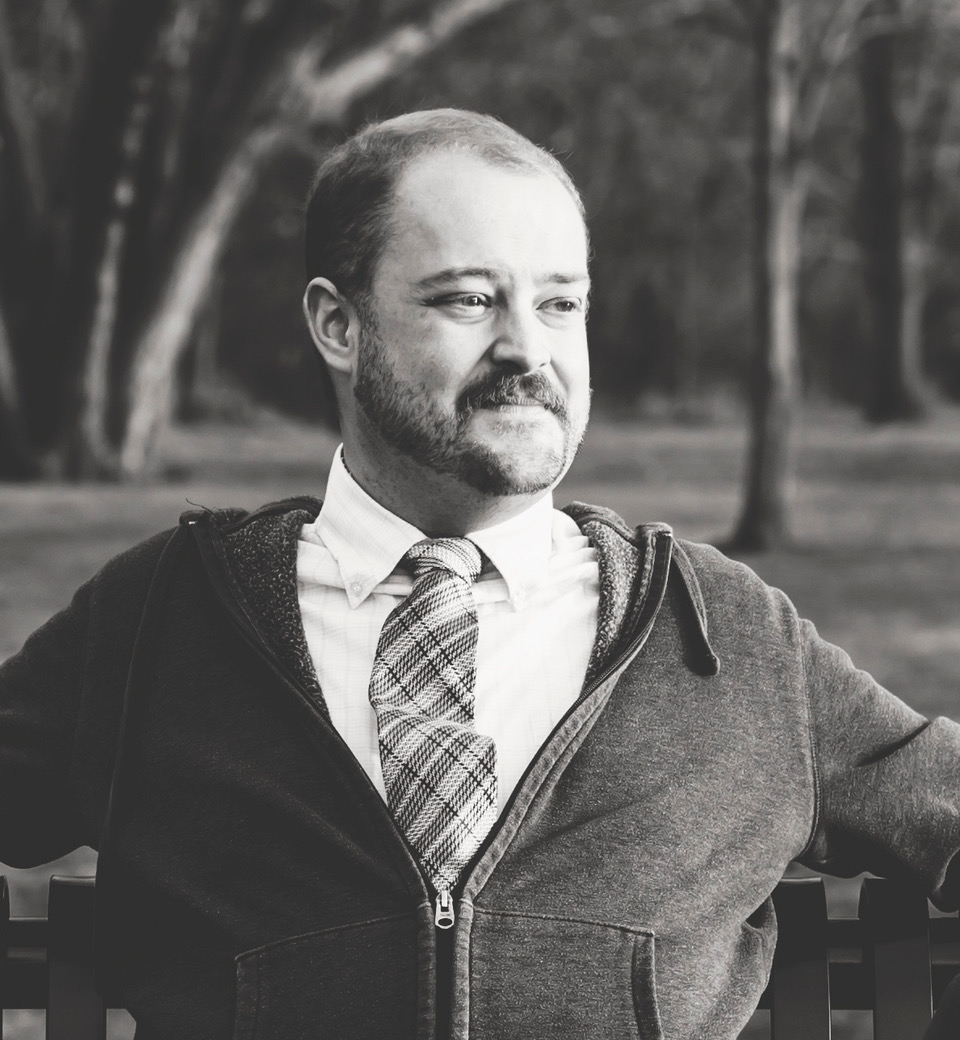 We'd love to hear a little more about this ghost story.
The original inspiration for "Cleaner Houses" came from a picture I saw on Reddit of a guy who (inadvertently?) looked like Abraham Lincoln taking a tour of Abraham Lincoln's home. That sparked a question: what sort of person would you need be to take a tour of your own house after you died? How big of an ego would that require?
I learned through several months of fairly thorough research that Frank Lloyd Wright definitely had that big of an ego. But almost none of what I learned made it into the piece, because pretty quickly after I started writing I learned the much better story was about Kara, and the whole "Frank Lloyd Wright taking his own tour" thing became a background quirk to help her get where she needed to go. Funny how these things develop sometimes.
What was the most difficult part of writing this story?
I've taught high school seniors for fifteen years, so I've got some inkling of what might go through the heads of certain types of eighteen-year-old girls, but there's always a risk in writing personas other than our own. I'm talking from a craft perspective (creating believable, sympathetic characters) and from a cultural perspective (recent literary and bigger societal discussions about representation and authenticity). In the first draft, I failed quite miserably. Kara was originally pregnant and the story skewed towards some (regrettable) moral judgment of her choices. Through months of revision and some creative narrator work, I attempted to come closer to a character worth caring about.
Recommend a book for us which was published within the last decade.
Oh, the exquisite pressure! I'm not going to think about this too hard. The Animals by Christian Kiefer is a riveting story I spent a lot of time with in my MFA program for a few different reasons. It may not thrill everyone, but it sure did me.
If you could have a drink with any living author, who would it be? Why?
Definitely whosever book I finished last. I'm often giddy to talk to authors upon completion of their work. So at the moment, Jennifer Egan, Lauren Groff, or Michael Chabon, if you're in western Wisconsin anytime soon, hit me up. I've got questions. Drinks are on me.
What are you working on now? What's next?
I am mere moments away from sending out the first queries for a novel I've been working on for a while. It's a story that starts with the secrets a woman keeps hidden in a dresser drawer finding their way online, which leads to infidelity, a crumbling family, and desperate attempts at redemption, all tied to the drama of a youth hockey season. At the moment, I'm flying high with the thrill of having completed a manuscript. Hopefully such emotions survive the submission process.
Our thanks to Eric for taking the time to answer a few questions and share his work. Read Rasmussen's story "Cleaner Houses" here: https://www.sequestrum.org/fiction-cleaner-houses.

___________________________________
Eric Rasmussen has placed short fiction in Fugue, Gulf Stream, Pithead Chapel, and South Carolina Review, among others. He serves as fiction editor for Sundog Lit, as well as editor of the regional literary journal Barstow & Grand. He earned his MFA at Augsburg University in Minneapolis and currently resides in Eau Claire, WI. Find him online at theotherericrasmussen.com.