Three poems by Gordon Hilgers – "Dogwoods," "Brink, " and "Butterfly Noise" – appeared in Issue 10 and can be read here.

Tell us a little about these poems.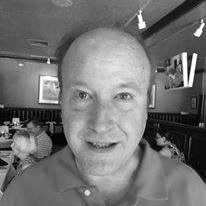 "Butterfly Noise" metaphorically details the half-light of living through trauma, something I experienced in the wake of leukemia treatment 10 years ago when I walked-out of the oncology ward physically cured while at the same time emotionally shut-down. I remember people exclaiming their wonder at the dreamlike poetry I read during spoken word events, none of them knowing I was desperate to free myself from emotional withdrawal. That took some time. When one's ability to respond to reality with one's emotion has been curtailed by trauma, one is a little like a wingless butterfly. I am better now.
"Dogwoods" is a lyrical rendering of what could be called the crossroads of winter and spring. The actual memory of camping near Lake Palestine in East Texas–an afternoon when I found a blooming dogwood with two trunks that shared one branch–a beautiful May afternoon in which we roamed up and down countless back roads in an open jeep and hollered at grazing cattle–an afternoon that turned into a blizzard at night–is probably a heck of a lot more mawkish than the poem, mainly because while my buddies slept in the tent, I cooked barbecue chicken with way too much salt on the wings. But that's beside the point, isn't it? The poem's departure is me almost viscerally feeling the "rhyme" of the dogwood blossoms with the fuzzy snowflakes as I ramped-up that fire with an entire dead tree I dragged to the fire pit, and slowly fed it into the fire's maw inch-by-inch…to the point our campsite was a circle of warmth surrounded by white.
"Brink" is a lyrical recounting of a sudden encounter with a wonderful woman outside an art studio complex where I took temporary residence. Kristen, the wide-eyed and red-haired siren, and I had a deep and quiet understanding that erupted that night outside an artist's studio in Deep Ellum, the famous Dallas neighborhood that was home to Lightnin' Hopkins, Leadbelly and Robert Johnson long before the arts community took residence in then-abandoned warehouse space. Kristen and I had long been friends who secretly laughed at all the men who desperately tried with all kinds of meat market tricks to impress her because she was so blasted beautiful. As for that night, we are both lucky we didn't break the car windows.
What was the most difficult part of writing this set?
None of these poems were particularly difficult. I awaken early to write because my subconscious mind is right on the surface and quite amenable to spilling onto the page. When I write, my brain is singing, for the brain singing is the essence of lyric poetry. My brain sings in rivers.
Recommend a book for us which was published within the last decade.
As for books, I recommend "Waiting", a National Book Award-winning novel by Chinese emigre Ha Jin, a plaintive story about two lovers caught within centuries of Chinese custom and political circumstances during Mao's infamous Cultural Revolution, their mutual longing of 18 years about to come to an end.
If you could have a drink with any living author, who would it be?
If I could have a drink with any living writer (I have had drinks with many a living writer), I would choose Thomas Pynchon simply to see if the weirdness of his novels shines through his eyes. His work has always amazed me, brought me to tears and also to hysterical laughter.
What are you working on now? What's next?
Right now, I am going through piles of first drafts to untangle the huge messes that made perfect sense when I was writing the poems. Luckily, I enjoy editing, and since poetry is often all about the editing, I'm in for a field day. Beyond that, I write new poems every single morning before the sun rises. A Nepali friend of mine recently foisted a quote before me in which Howard Nemerov claimed he'd written three poems that year. I write close to 400 a year, yet only a few warrant the deep digging necessary to tailor them into an exuberant dance of nouns. I also write short stories.
Our thanks to Gordon for taking the time to answer a few questions and share his work. Read "Dogwoods," "Brink, " and "Butterfly Noise" here: www.sequestrum.org/poetry-by-gordon-hilgers.
____________________________________
Gordon Hilgers has had a long and storied career in and out of writing. His work has graced the pages of the Texas Observer, Tupelo Quarterly Review, Poetry Quarterly, Edgar Allen Poet Journal, Boston Literary, and a multitude more alongside his illustrious muckracking as an advocacy journalist who helped form the Dallas Homeless Coalition and the Dallas/HUD Contiuum of Care from scratch