Guinotte Wise's poems, "Granite City" and "Rodeo Voodoo," appeared in Issue 11 and can be read here.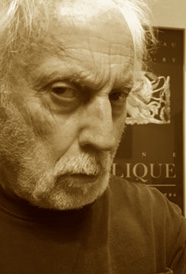 Tell us a little about "Granite City" and "Rodeo Voodoo."
Granite City: I remembered times like that, hopelessness, heat, the Kansas sky white and the dust of drought. It was a time when nothing was right and the drought just sucked the life out of everything–I conflated that with another time, a situation that could have turned bad, quickly. For no real reason. Granite City is a metaphor for that whole confining suckhole of circumstances that I allowed to surround me in those days. I just tried to convey that.
Rodeo Voodoo: The preparation for bull riding was intense, a cross between zen and voodoo, if that's not too dramatic to say. A sort of fugue. I missed it so much that it stays with me, the grit and the zeroing in on the moment, the smells, the sounds. The ride itself distorted time. Mind-altering, all too often body altering as well. Had to give it up.
What was the most difficult part of writing these poems?
To know if I had actually portrayed the feeling–it's important to me to do that, otherwise why bother.
Recommend a book for us which was published within the last decade.  
"The Woman Who Lost Her Soul" by Bob Shacochis. He spent ten years on it. It's an important book that explains a lot about where we are now, and he writes so beautifully.
If you could have a drink with any living author, who would it be? Why?
Nic Pizzolatto. Because "Galveston" was so good, so visual, and the first "True Detective" was nuanced genius. What a mind. I'd just like to know more about this super-talent.
What are you working on now? What's next?
A fourth book,"L.A. Hardscape." Plus more poetry in a chapbook titled "Scattered Cranes." And more short fiction.
Our thanks to Guinotte for taking the time to answer a few questions and share his work. Read "Granite City" and "Rodeo Voodoo" here: www.sequestrum.org/poetry-by-guinotte-wise.
___________________________________
Guinotte Wise welds steel sculpture and writes on a farm in Resume Speed, Kansas. His work can be seen at  http://www.wisesculpture.com  His fiction, art and poetry have appeared in numerous literary reviews including Atticus, The McGuffin and Shotgun Honey. His short story collection (Night Train, Cold Beer) won publication by a university press and not much acclaim. Two more books since. His wife has an honest job in the city and drives 100 miles a day to keep it. His Amazon author's page with more books is Here. Tweet him @NoirBut.