"A Day Made of Atoms Like Ours," "Nearing The After," "Through the Blows," and "Poem for My County" by Jed Myers appeared in Issue 23 and can be read here.
We'd love to hear about this group of poetry.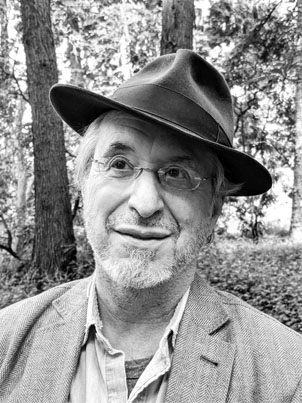 Three of these four poems ("A Day Made of Atoms Like Ours," "Poem for My Country," and "Through the Blows") are closely related—they all arise from my ongoing personal struggle with my American identity. I know I'm in multitudinous company, I don't feel alone in this struggle, but it is a relentless discomfort, and a complicated distress to live with. These poems are variations in the mode of ever-unsettled reckoning with being part of this great madness—all the innocence and wonder mixed with all the dread and division and contempt.
The outlier of this group, "Nearing the After," is also a bit of reckoning, but with the more universal difficulty of losing loved ones. The particular twist here is the haunting, beyond loss, of unresolved relationship tensions. There's a hint in, or behind, the poem, that perhaps we continue evolving toward forgiveness even beyond our time in the body—but the matter must remain mysterious.
What was the most difficult part of writing this set?
I am rather self-conscious about broadcasting my own deep discomforts, knowing I might well be stirring similar unease in others. But it is also precisely what I want to do—what I feel is crucially, urgently necessary. We need poetry to create the shared space for facing together what we cannot face alone. I need to permit myself to cut through comfortable avoidant defenses—my own and my reader's—if I am going to write useful poems. But it never gets easy!
Recommend a book for us that was published within the last decade.
Tony Hoagland's Application for Release from the Dream, published in 2015—it's wonderful. His deep humor offsets this relentless deconstruction of our humanness, down toward essences you can feel his faith in seeking. It's very sad that Tony's gone too soon, but his poems, they live!
If you could have a drink with any living author, who would it be? Why?
I'd like to have a drink with Jericho Brown. I just attended a reading he did in Seattle, and it deepened my admiration for him and his work. He has a method that intrigues me, and there's something bravely vulnerable, bravely honest, that comes through his poems—they strike me as incantatory invocations of the truth, and I aspire to that. Talking with him over a drink, I might be able to hear something that will help me toward writing truer poems.
What are you working on now? What's next?
I'm writing new poems and revising older ones, still just feeling my way into the current where the personal rings political, the intimate goes boundless, and the moment's experience finds its sense of forever. I'm refining a couple collections, hoping for publishers' interest. This is a way I have of contributing to our interconnectedness, diminishing our aloneness, bringing a bit more light to the basic fact of our oneness. I just want to be able to go on with this venture.
Our thanks to Jed for taking the time to answer a few questions and share his work. Read Jed's poems "A Day Made of Atoms Like Ours," "Nearing The After," "Through the Blows" and "Poem for My County" here: https://www.sequestrum.org/poetry-by-jed-myers.

___________________________________
Jed Myers is author of Watching the Perseids (winner of the Sacramento Poetry Center Book Award), The Marriage of Space and Time (MoonPath Press), and four chapbooks, including Dark's Channels (winner of the Iron Horse Literary Review Chapbook Award) and Love's Test (winner of the Grayson Books Chapbook Competition). Recent recognitions include the Prime Number Magazine Award for Poetry, The Southeast Review's Gearhart Poetry Prize, and The Tishman Review's Edna St. Vincent Millay Poetry Prize. Recent poems appear in Rattle, Poetry Northwest, The American Journal of Poetry, Southern Poetry Review, and elsewhere. He is Poetry Editor for the journal Bracken.