Jody Hobbs Hesler's short story, "Girl at the Gas-a-Thon" appeared in our Summer '15 Issue and is available to read here.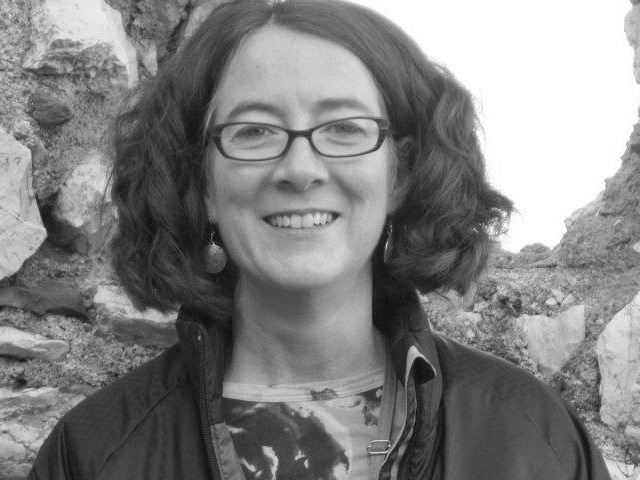 Tell us a little about "Girl at the Gas-a-thon."
The story itself grew out of many influences. For one thing, there really are giant plaster dinosaurs off Route 340 near White Post, Virginia. Dinosaurland. My father lived near there when I was growing up. The summer boredom of the teenage years has always fascinated me – the yearning, the sense of freedom oddly fettered with limitation, the oppressive heat. My unnamed character blends the place with the boredom and throws in a fear of his own insignificance. It's also important to me that not all the characters in the story are white. It bothers me how much writing out there shows homogeneity where it doesn't actually exist. All of these things gave rise to this story, but I also have to say that this character walked into my mind one day as if from nowhere. His voice was his own from the start.
What's the most difficult part of the writing process for you?
For this story, it took me a while to earn the ending. Readers of early drafts balked at the narrator's turn of purpose toward the end. It takes work to get readers from saying "Huh?" to "Oh!" at a surprise moment. What's difficult about each piece can be as different as the pieces themselves, though. Sometimes it's hardest to shape the character on the page to match it in my mind or to deliver a scene with the right tones and expectations or, as in this case, to earn that ending. Writing is hard work. What makes it worthwhile is how, when it's going well, it feels like magic.
What's your favorite book published within the last decade?
Not a "favorite" question! Always so hard to answer. What I look for are works that transport me into a new place so well that I forget I'm not actually there. A tall order. Some recent books that did this for me: Josh Weil's New Valley. I loved the textures of his characters, their complications and quirks, the way they seemed to crop straight up from the place he conjured so exactly. Christine Schutt's Prosperous Friends. The beauty of her language by itself satisfied, but she added to that satisfaction by creating such terribly fraught and interesting characters. William Trevor's Love and Summer delivered me straight into the rural Irish countryside and thoroughly broke my heart. And Peter Ho Davies' The Welsh Girl sent me to yet another distinctly rendered place and also addressed war and the many complicated hatreds it begets, even among people who are supposed to be on the same side.
If you could have a drink with any living author, who would it be? Why?
Perhaps I'd have tea with Vikram Seth. His novel A Suitable Boy – a saga of Partition-era India, intermingling the stories of four families battling the turbulent times and Western influences, operatic in scope, thoroughly transporting, and often humorous – leads me to believe he would be a very entertaining and colorful person.
What are you working on now? What's next?
I'm hammering out a final draft of a story about a hotel maid, fighting my way to the end of a first draft about a guy getting gentrified out of his childhood home, and polishing a new story about a shy gay teen who asks her friend and love interest to the prom by accident. I'm also in the early stages of a novel inspired by the life-size concrete German Shepherd that sits – as if on duty, painted tongue lolling –at the front door of a house down the street from mine. I'm interested in our fixations on safety and how they often lead us to miss dangers lurking within ourselves. Also under way are more book reviews and a search for a home for my recently completed novel, Little Angel.
Our thanks to Jody for taking the time to answer a few questions and share her work. Read Jody's work here: https://www.sequestrum.org/girl-at-the-gas-a-thon.
____________________________________
Jody Hobbs Hesler lives and writes in the foothills of the Blue Ridge Mountains. Her fiction, articles, essays, and book reviews have appeared or are forthcoming in Gargoyle, The Georgia Review, [PANK], South85, Valparaiso Fiction Review, Steel Toe Review, Prime Number, Buffalo Almanack, Pearl, A Short Ride: Remembering Barry Hannah, Charlottesville Family Magazine, and other publications. One of Hesler's stories was a Pushcart Prize nominee and several have appeared in regional prize anthologies. Find out more at jodyhobbshesler.com.