Judy Kronenfeld's poems "Raving and Burning," "Diversion," and "The Older Generation" appeared in our Fall & Winter '15 Issue and can be read in their entirety here.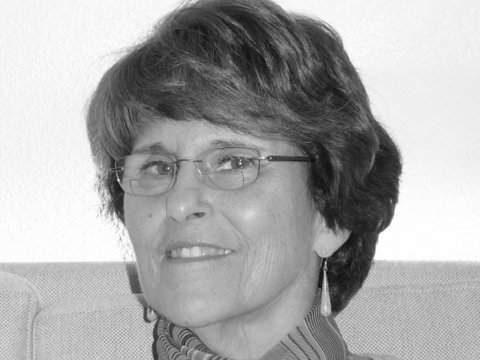 Tell us a little about this piece.
" The Older Generation" is a relatively rare (for me) "gift" poem, with a story less complicated than "Raving and Burning" or even "Diversion." It came out of a sensory experience  in a particular context, and grew from a few notes jotted down in a semblance of the final rhythm. On the way to the airport and our flight home to California—after an early spring visit with our kids and grandkids—my husband and I stopped for an hour's walk in a Maryland forest. My mood was still "on vacation," relaxed and receptive. And I was drawn to those whitened leaves I did take as bloom from a distance—especially once I saw that they weren't. I actually took a few dry leaves home with me (packed in a paper cup we had in our rental car). At some point after we came home, the first stanza was revised from my notes, and the second extended from a collection of sounds and words that had come to me on the spot, and had seemed a mysterious given at the time. And the last stanza emerged largely from my looking—with a certain tenderness—at the leaves I had collected as I sat at my desk. I considered some more neutral titles ("Eastern Green Zone") as well as some pointed ones ("Hangers-On") before settling on the present title, which seemed to have the right combination of exactness and suggestion.
What's the most difficult part of the writing process for you?
I think it's probably having the faith that the process of revision will ultimately result in a poem I like. The process is both deliberate and accidental. It may involve insightful glimpses over weeks, months, or even years, but these are often interspersed with looping around and around familiar entrances and exits, or going out on limbs that crack. Although I know in my bones that cumulative experience matters for both intuitive and deliberate decisions about poems, any one individual poem makes me feel like a pioneer without a map.
Recommend a book for us which was published within the last decade.
Just one? Hilary Mantel's Wolf Hall and Bring up the Bodies remain the most extraordinary historical fiction I've encountered. I have never felt so steeped in a historical period, in it, rather than re-imagining it; I love the way her metaphors and similes are constructed from the material culture of Tudor England, as if she were a Tudor. The exploration of the mysteries of the self and of memory in Richard Powers' The Echo-Maker bowled me over, as did the book's depth of characterization and sheer beauty (the opening description of the migration of the sandhill cranes alone is worth the price).
If you could have a drink with any living author, who would it be? Why?
C.K. Williams. Because I so admire his poetry for its searing honesty, its vulnerability, self-humor, and compassion, its social concern and connection to the world, responsiveness to thought and self-questioning, and its utter convincingness of voice. I would probably just gape.
What are you working on now? What's next?
I have a new manuscript of poems (working title: Dark Light Light Dark) that I've just stopped fiddling with, and begun to submit to contests. But I may fiddle some more. I am writing and revising new poems. There are a couple of personal essays I want to write as well—related to personal essays I've published in Under the Sun over the past few years.
Our thanks to Judy for taking the time to answer a few questions and share her work. Read Judy's poems here: www.sequestrum.org/raving-and-burning-diversion-the-older-generation.
____________________________________
Judy Kronenfeld's most recent books of poetry are Shimmer (WordTech Editions, 2012) and the second edition of Light Lowering in Diminished Sevenths, (Antrim House, 2012), winner of the 2007 Litchfield Review Poetry Book Prize; her most recent chapbook is Ghost Nurseries (Finishing Line, 2005). Her poems have appeared in many print and online journals (such as Avatar, Calyx, Cimarron Review, Natural Bridge, Valparaiso Poetry Review, Sequestrum,  and The Pedestal), and  in eighteen anthologies including Beyond Forgetting: Poetry and Prose about Alzheimer's Disease (Kent State, 2009), Before There Is Nowhere to Stand: Palestine/Israel: Poets Respond to the Struggle (Lost Horse, 2012), and Weatherings (Future Cycle Press, 2015).  Her poems are forthcoming in Miramar, Cider Press Review, and Valparaiso Review, and in the anthologies Far Out: Poems of the 60s (Wings Press), and Bared (Femmes Folles Press).  Judy is Lecturer Emerita, Creative Writing Department, UC Riverside, and an Associate Editor of the online poetry journal, Poemeleon.