"Cocoon" by Sam White appeared in Issue 25 and can be read here.
We'd love to hear more about "Cocoon."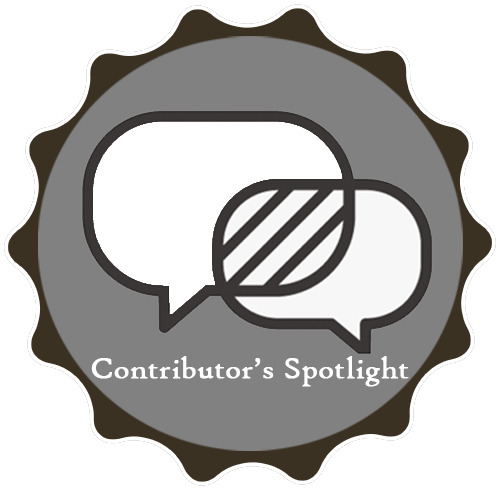 Most of the fiction I write, whether it's novels or short stories, has an element of urban fantasy, sci-fi or fabulism. This piece grew out of a desire to see if I could make a more realist story stand on its own, without relying on high concepts or any tricks. Of course, some tricks still made their way in there. I couldn't help myself.

This story was inspired by a real, different experience with a collections agency years ago, where I was answering the phone for someone and feeling anxiety about a debt I didn't owe. I wanted to explore how this kind of pressure could cause a character to break out of their complacency. Of course, the character Stephanie ends up confronting them in this piece, and I never did. This story was revenge enough for me.  
What was the most difficult part of this story?
I think the hardest part of this story was getting the right tone for the character Gary, and his relationship with the narrator. I was trying to extract humour from a character who's maybe on the downslide of his career, who's a bit out of touch, but still thinks the world is just waiting for the next thing he has to say. 
Along the way I realized that the story wouldn't work if it doesn't show real empathy for this character. Stephanie, the narrator, sees all his shortcomings, but she still doesn't want to disappoint him. On some level she knows that he believes in her, and her shame comes from not having that same belief in herself. It was tough to find that balance, but I'm happy with how it came out. 
Recommend a book for us which was published within the last decade.
This might come out of left field for anyone who reads this story as it's quite different, but I was enthralled by the Remembrance of Earth's Past trilogy by Liu Cixin last year. It's a Chinese science fiction trilogy. The first book, The Three Body Problem, was translated into English in 2015 and the others since then. They grabbed me unlike any book – either "literary" or "genre" – has in the past few years. 
I find it fascinating to read sci-fi that comes from a completely different set of cultural underpinnings than we're used to in western genre fiction. The trilogy has so much scope – it begins in the Cultural Revolution period and goes all the way to the heat death of the universe. To me, there are also moments of pure artistry that more than hold up to the best literary fiction. Those books are about humanity's ability to come together to cope with a common external enemy, which feels newly relevant to me in these times.  
If you could have a drink with any living author, who would it be? Why?
Ottessa Moshfegh. To me, she is doing some of the most astounding work in fiction right now. Every book she writes feels more ambitious than the last, while also being funnier. She strikes such a unique balance between discomfort and humor, with each aspect feeding on and heightening the other. It feels like a high wire act. I also know that early in her career she went through some difficulty in terms of finding an audience and being able to produce. I'd love to buy her a drink just to thank her, but also to see if she had anything to say about how she navigated those moments. 
What are you working on now? What's next?
Right now, I'm working on a collection of short stories in a similar vein as "Cocoon" — stories that are more realist than what I've written before. In these stories I'm trying to be as honest as possible, maybe more than I have been in the past. Hopefully brutally so. In the meantime, I'm also thinking about the next novel I want to write, and whether I want to continue down this path or blow it up and write hard sci-fi. I'm trying to keep myself on my toes. 
Our thanks to Sam for taking the time to answer a few questions. Read White's story "Cocoon" here: https://www.sequestrum.org/fiction-cocoon.

___________________________________
Sam White is a graduate of the University of Toronto's M.A. in Creative Writing program, where White worked under the mentorship of Charles Foran. Sam has appeared in Toronto-based publications including Double Dot and Ephemera. White's story, 'Tesseract Man,' was shortlisted for the CBC's Short Story Prize in English in 2009.