"Card Show," a short story by Sarah Freligh, appeared in Issue 10 and can be read here.
Tell us a little about "Card Show."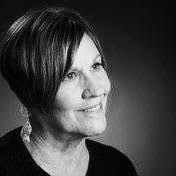 As a former sportswriter, I was always more fascinated by the ex-jocks than the active, naked athletes I interviewed in too many locker rooms. For many athletes, retirement is a little like death – the end of a life as they know it – and yet they go on living. How they negotiate that space is what fascinates me, which is where this piece starts: at that junkyard for retired athletes a/k/a the card show. I didn't know the daughter was going to show up until she announced herself. After that, the title took on a deeper meaning—card show as in bluff.
What was the most difficult part of writing this story?
Because it's written in the third person omniscient point of view of the male protagonist I was less worried about sounding authentic than sounding cliched.
Recommend a book for us which was published within the last decade.
Carol Sklenicka's biography Raymond Carver: A Writer's Life.
If you could have a drink with any living author, who would it be? Why?
Two authors: Alice Munro and Margaret Atwood. Not long after Munro was awarded the Nobel Prize, a picture of the two of them drinking Champagne in a hotel room in British Columbia surfaced on Facebook. They are goddesses to me for the literary conventions they've flouted, and the lives they've led as women and writers.
What are you working on now? What's next?
Short stories in hopes that I'll have enough for a collection by year's end. And poems – always poems.  
Our thanks to Sarah for taking the time to answer a few questions and share her work. Read "Card Show" here: www.sequestrum.org/fiction-card-show.
____________________________________
Sarah Freligh is the author of Sad Math, the winner of the 2014 Moon City Press Poetry Prize and the Whirling Prize from the University of Indianapolis; Sort of Gone, and A Brief Natural History of an American Girl, winner of the Editor's Choice Award from Accents Publishing. She has received fellowships from the National Endowment for the Arts, the Constance Saltonstall Foundation, and the New York Council on the Arts.  A former sportswriter for the Philadelphia Inquirer, Freligh lives on the North Coast of New York State.