"The Country of Husbands," a short story by Suzanne Warren, appeared in Issue 14 and can be read here.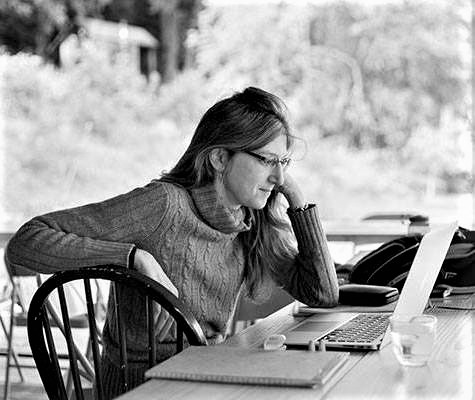 Tell us a little about "The Country of Husbands."
When I was getting a doctorate at University of Cincinnati, I had an opportunity to work with Aimee Bender and Judy Budnitz. They showed me the possibilities of magic realism for US writers, how to use fabulism to write about the domestic realm. At the same time, I was single, childless, and of a certain age, and felt like a fish out of water in Cincinnati. Even more so because I didn't particularly even want children. One day I was complaining to a friend and muttered, It's not like I'm going to march into their homes, fuck their husbands, and kill their babies! That was the seed of the story: the paranoid sense that I was an object of suspicion and horror.
What was the most difficult part of this story?
The tone: maintaining a balance between mordant wit and bleak despair. Lol!
Actually, this story came all at once at five in the morning and required very little revision. Usually, I write slow. Writing is basically the sweetest piece of hell I'll ever know, but this story was a rare gift.
Recommend a book for us which was published within the last decade.
In 1938, Brecht wrote: "In the dark times/ Will there also be singing? / Yes, there will also be singing / About the dark times." For these dark times, two slender books:
First, Claudia Rankine's Citizen. Testifying to the unfinished project of American emancipation, Rankine writes, "because white men can't / police their imagination / black men are dying." A column of In Memory of's marches down the facing page and fades into whiteness. The first few are followed by the names of unarmed African-Americans murdered by police. The rest are left blank: tombstones at the ready. A searing and sorrowful indictment of twenty-first-century lynching culture (Citizen: An American Lyric, Graywolf 2014).
Second, Rebecca Solnit's essay "Woolf's Darkness: Embracing the Inexplicable." Solnit offers this defense of hope as tactical and spiritual strategy:
"To me, the grounds for hope are simply that we don't know what will happen next, and that the unlikely and the unimaginable transpire quite regularly. And that the unofficial history of the world shows that dedicated individuals and popular movements can shape history and have, though how and when we might win and how long it takes is not predictable." (Men Explain Things to Me, 2014; Hope in the Dark: Untold Histories, Wild Possibilities, 2016. Both published by Haymarket).
If you could have a drink with any living author, who would it be?
Most of the writers I know, myself included, are either deeply boring, weird, or despise people. That said, Alice Munro. She's from my mother's part of the world—small-town Ontario—and of the same vintage. My desire for a dinner invite is partly motivated by curiosity about my own mother, I guess – a desire to enter and understand the inaccessible past.
What are you working on now? What's next?
I'm working on a collection of short stories entitled Bad Gift, which includes this story. Most of them harness the fantastic to explore the lives of girls and women. I write personal essays, which I'm shaping into a longer book-length work. And I've just started a genre novel about a woman who induces sympathetic pregnancy in strangers. Genre is fun and deeply weird. Insert shameless plug for agent here!
Our thanks to Suzanne for taking the time to answer a few questions and share her work. Read Suzanne's story "The Country of Husbands" here: https://www.sequestrum.org/fiction-the-country-of-husbands.
___________________________________
Suzanne Warren is a Seattle-based fiction writer and essayist whose work appears or is forthcoming in Narrative, Gulf Coast, Post Road, Versal, and The Cincinnati Review. Writing awards include fellowships at the Virginia Center for the Creative Arts and the Ucross Foundation. She teaches at the University of Puget Sound and is currently at work on a collection of short stories entitled Bad Gift.
Photo credits
Melanie Masson