"Letting in Daylight," "White Voice," and "the alarming decline of the bobwhite" by Mara Adamitz Scrupe appeared in Issue 24 and can be read here.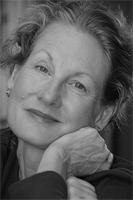 We'd love to hear a little more about this set of poetry.
My work often comments on current events from perspectives of personal experience and history. In my writing I enjoy digressions, non sequiturs and peculiar rythmic patterning and structures that imply and suggest rather than state or tell. I write from a place of embedded stoicism, which is not the same as callousness or hardheartedness but is in fact a strategy for advancing deeply emotional content without diminishing it.
What do you find most difficult in writing?
I find it difficult to reveal personal details of my life in my writing.
Recommend a book for us which was published within the last decade.
I'm an avid reader of history and nonfiction; there are far too many books in these two categories that I could/ should recommend. 
If you could have a drink with any living author, who would it be? Why?
The novelist Mark Helprin; his writing is rich and tightly woven but it also, and fantastically, wanders way off the beam.
What are you working on now? What's next?
I'm working on three new poetry collections; one is botanically driven and includes drawings and photos of native plants, one is a hybrid history of my piedmont Virginia farm and people that have lived there over the course of the past two-hundred-fifty years, and one addresses the immigrant story of the Polish branch of my family.
Our thanks to Mara for taking the time to answer a few questions and share her work. Read Mara's poems "Letting in Daylight," "White Voice," and "the alarming decline of the bobwhite" here: https://www.sequestrum.org/three-poems-by-mara-adamitz-scrupe.

___________________________________
Mara Adamitz Scrupe is a poet and visual artist; she is the author of six published and forthcoming poetry collections, BEAST (winner, 2014 Stevens Manuscript Prize NFSPS Press, 2014), Sky Pilot (Finishing Line Press Chapbook Competition, 2012), Magnalia (2018 Eyewear Press Chapbook Competition), A Daughter's Aubade/ sailing out from Sognefjord (winner, Fledge Poetry Competition, Middle Creek Press, 2019), In the Bare Bones House of Was (Brighthorse Press Poetry Book Prize winner, 2019) and Eat the Marrow (Erbacce Press, Erbacce Prize in Poetry 2019). She is also the winner of the 2019 Canterbury International Arts Festival (UK) Kent Prize/ Poet of the Year as well as the 2018 Grindstone Literary International Poetry Competition. Her poems have appeared in The London Magazine, Mid America Review, Maine Review, Comstock Review, Off the Coast, Narrative Magazine, The Cincinnati Review, Bare Fiction, Matador Review, Ruminate, Crosswinds Review, Crab Creek Review and Sentinel Quarterly Literary Review (UK), among others. She has won or been shortlisted for numerous literary awards including Fish Poetry Prize, BigCi Environmental Writing Fellowship (Australia), Aesthetica Creative Writing Award (UK), Erbacce Poetry Prize, The Plough Poetry Prize, Ron Pretty Poetry Prize (Australia), Periplum Book Award (Plymouth University, UK), Sentinel Quarterly Book Award (London), Stiwdio Maelor Poetry Prize (UK), Cornwall Poetry Festival Competition (UK), University of Canberra Vice-Chancellor's Poetry Award (Australia), and the National Poetry Society Competition (UK).